CrossFit is a strength and conditioning program desiged to perform at the highest standards of many athletes by targeting peak exertion in the three main metabolic pathways. The program is designed to be applicable at all levels do the scalibility of the workouts. The principles are quite simple;
CrossFit is a new fast growing fitness sport/lifestyle/movement. It combines gymnastics with weightlifting, with combat sports, with running, swimming, cycling, rowing, normally in the same workout. The goal is to achieve elite total body fitness including strength, endurance, balance, agility, flexibility, and accuracy.
The movement is centered around the website, that publishes an extraordinary wealth of fitness information and includes a WOD (Work Out of the Day) every day. The workouts are intense and varied.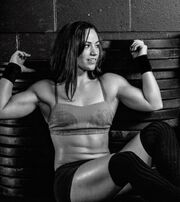 Followers of the fitness regiments post comments to the WOD including their times or results for the WOD.
CrossFit defined in 100 words
Edit
 eat meat and vegetables, nuts and seeds, some fruit, little starch and no sugar.
 Keep intake to levels that will support exercise but not body fat.
 Practice and train major lifts: Dead-lift, clean, squat, presses, C&J, and snatch.
 Similarly, master the basics of gymnastics: pull-ups, dips, rope climb, push-ups,
 sit-ups, presses to handstand, pirouettes, flips, splits, and holds.
 Bike, run, swim, row, etc, hard and fast.
 Five or six days per week mix these elements in as many combinations and patterns as creativity will allow.
 Routine is the enemy.
 Keep workouts short and intense. Regularly learn and play new sports.

A significant difference between CrossFit and traditional gymnasium training is that the latter is focused on muscle group isolation and uses long interval training. CrossFit, however, is made of high intensity, short interval movesets which improve not only raw physical power but also improve motor coordination that challenges various planes of motion. [1]
References
Edit
Community content is available under
CC-BY-SA
unless otherwise noted.